Work & Training has received state government funding to offer an additional 170 fee free training places to Tasmanians looking for a rewarding career in Aged Care and Disability Support.
Work & Training, one of the state's leading training and recruitment providers has been successful in gaining additional funding to expand its delivery of Aged Care and Disability Support training across the state.
"We already deliver training to more than 100 students every year in the Aged Care and Disability Support sectors, with more than 90% of our students going on to secure employment in the field. This new funding will allow us to offer 170 more fee free training places over the next year," said Rodney Hayden Operations Manager – Employment & Training Services for Work &Training.
The aged care and disability sector is one of Tasmania's fastest growing industries employing more than 40,000, and it is estimated almost 4,400 more people will be needed to take up these aged and disability care roles over the next three years.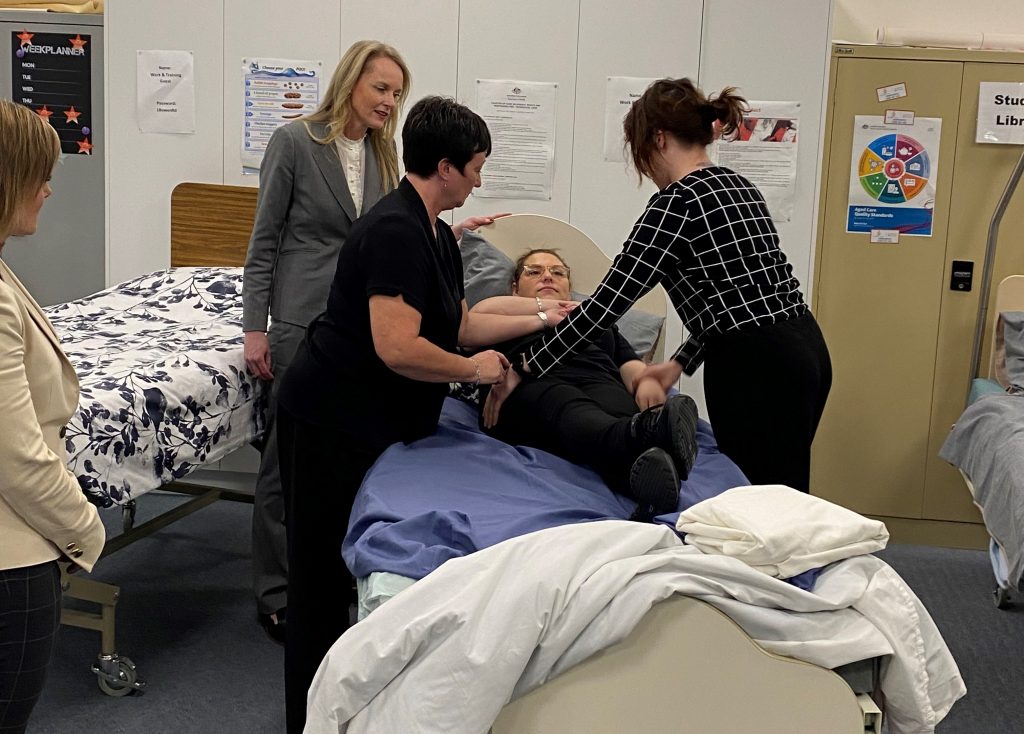 "This is a great opportunity for people who want to start a career in the Aged Care or Disability Support sectors to gain essential qualifications at no cost to them. Our mix of classroom based practical training and real world work placement has proven highly successful in creating a skilled, experienced, job ready workforce. Working with our partners we aim to have students placed into roles as soon as their training is complete," said Mr Hayden.
The $3 million Rapid Response – Careers in Aged Care and Disability Support program funding was announced by Sarah Courtney, Minister for Skills, Training and Workforce Growth, at Work and Training's Hobart office and training centre on Thursday.
Minister Courtney also met with current Aged Care students and received a demonstration of skills they are learning.
For more information about training opportunities contact Work and Training on 1300 309 675 or visit our training courses to learn more
Work and Training is part of the IntoWork Australia Group, a leading national provider of services that support economic and social participation, through tailored pathways for individuals and workforce solutions.