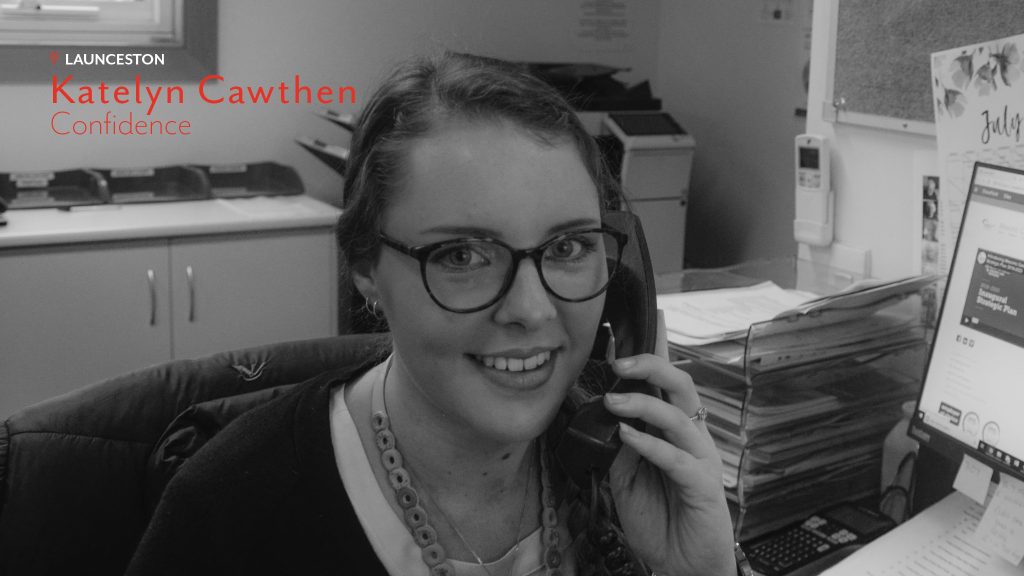 "It's nice to know that I'm supported wherever I am and whatever I do."

– Katelyn Cawthen, Business Trainee, Masonic Care Tasmania
Katelyn Cawthen is almost a year into her Business Traineeship with Masonic Care Tasmania. Based at the Fred French facility in Launceston, Katelyn's smiling face is one of the first to greet you as you enter the building.
A typical day sees Katelyn working in reception – greeting visitors and answering phones, as well as performing general administrative tasks and chatting to facility residents.
"We have lots of older people coming in. You get to know them, you get to know their families and visitors – you're the face of the facility. People come in and say hello and start a conversation, and they'll go out and say, 'oh, this is a nice place to be."
Katelyn feels that her traineeship is equipping her with both the practical and personal skills she will need to succeed in the workforce.
"I'm beginning my career and it's getting me ready. I've got the basic admin skills, and a bit more confidence to go and start trying new things" she says.
"I'm quite shy normally, but going into this and having everyone support me has given me lots of confidence – getting a bit of independence."
For Katelyn, the additional support provided by Work & Training has helped her with balancing work, study and personal commitments during her traineeship.
"Going into the traineeship I was really scared, I couldn't imagine how supportive everyone has been. It's been really amazing – the support and care that at everyone at Work & Training have provided."
For Katelyn, this support allowed her to continue with her studies during a particularly difficult time.
"When I first started my traineeship my Pop wasn't very well. He actually passed away. Sophie and Peter from Work & Training were there to support me along the way, checking in to see if everything was going okay with my work and studies, as well as my personal life."
Undertaking a traineeship has given Katelyn a boost as she begins her career, giving her the confidence she needs to eventually take the next step.
"It's been a really good experience – a good start to whatever sort of career you want to go into. You get help when you need it. If I have any questions to do with study, they're there to help."
For now, Katelyn is happy to be surrounded by people who support her and her future aspirations.
"Coming to work every day, it's nice to know that I'm supported wherever I am and whatever I do. Not only by Work & Training, but also the staff here at Fred French."
Katelyn Cawthen – Business Trainee, Masonic Care Tasmania
Ready to start your career, but not sure where to begin? A traineeship with Work & Training can offer you the support you need to get started.