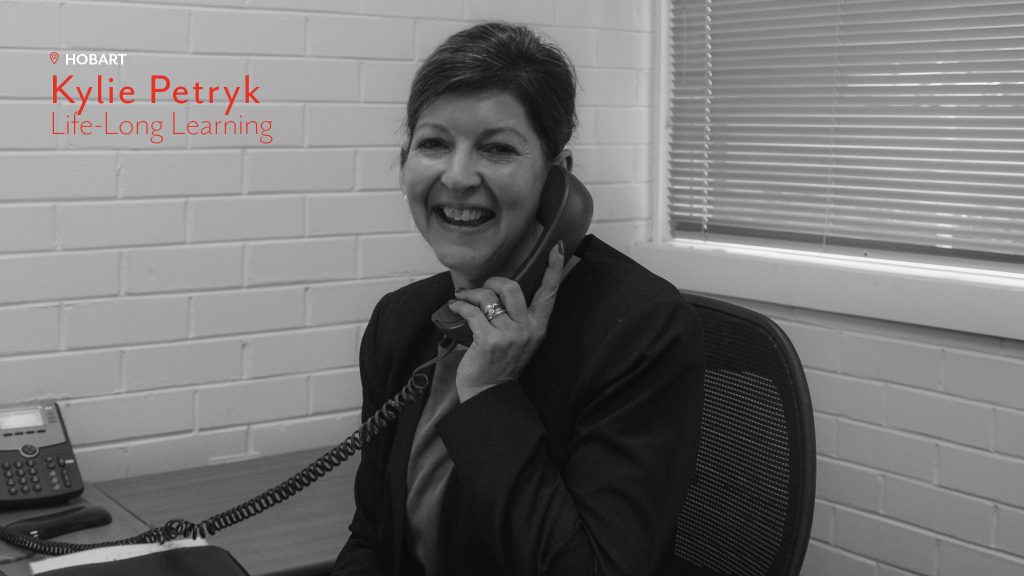 "Crossing paths with former trainees since completing their traineeships drives me every day to offer other trainees these valuable opportunities."

– Kylie Petryk, Group Employment Team Leader, Work & Training
Starting her career as a Business Trainee, Kylie Petryk is now a Team Leader with Work & Training. She has worked with the organisation for almost two decades.
"I actually wanted to go into nursing, so I studied all the relevant subjects going through college. When I went to do work experience at Royal Hobart Hospital in Hobart, I realised that nursing wasn't for me after feeling quite queasy!"
Deciding a business qualification would give her broad employability, Kylie jumped at the opportunity to complete a qualification in this area. She has since begun studying a business degree at university.
"I truly believe in life-long learning. When I go out to colleges and schools to promote traineeships and apprenticeship pathways, I talk to students about getting a nationally recognised qualification, which can then be used to gain entry to further study in specific areas."
Kylie sees the additional support that Work & Training provide to apprentices and trainees as a real benefit.
"What I love about Work & Training is the fact that the whole process is fully supported. A college leaver might feel the transition to the workplace is a bit daunting, so our role is to alleviate that fear" she says.
"If I'm asked for advice about traineeships or apprenticeships, I always recommend Work & Training because of this additional support. We ensure that we're always available, so if a trainee has any concerns or questions, our consultants are on hand to offer guidance, support and encouragement."
Work & Training enable apprentices and trainees to get the most from their learning environment.
Kylie explains – "for example, our construction apprentices are placed in a residential environment and then rotated into a commercial environment, so they're gaining experience in both fields."
For Kylie, seeing former trainees succeed in their chosen field is what continues to motivate her.
"Every day the journey continues, enabling new opportunities for businesses and helping Tasmanians launch their career."
Kylie Petryk – Group Employment Team Leader, Work & Training
Want to know where a Certificate qualification can take you? Work & Training can help you find a course to suit your career goals.